Instruction in finding your gifts of grace(english / chinese)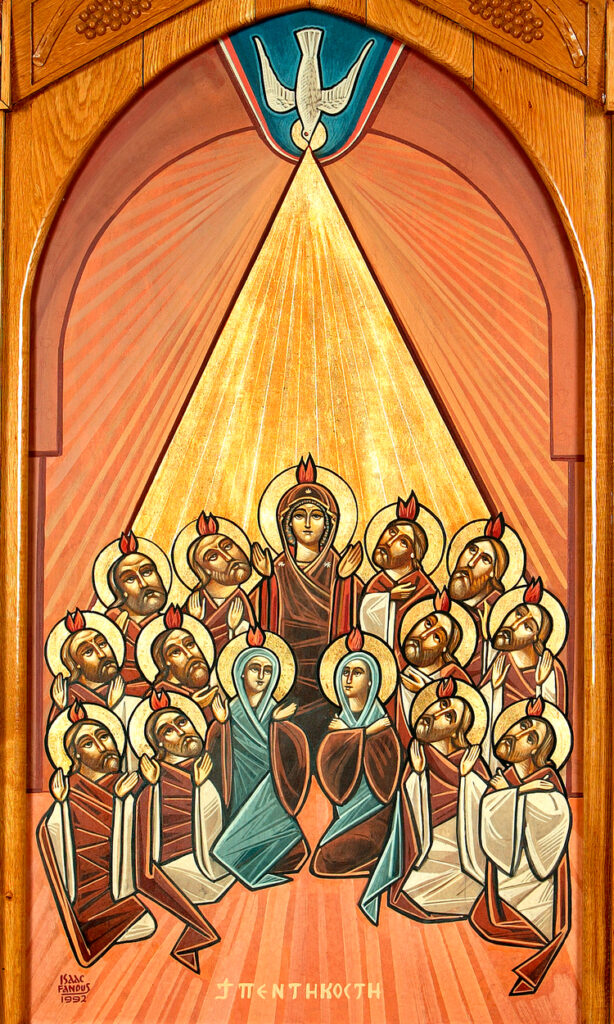 Find a good position which help you to breathe freely and to be focused.
Pray for the coming of the Holy Spirit:
Come, Holy Spirit, in the name of Jesus Christ! Open my heart, my thoughts, and my feelings to you. Cleanse me from everything that blocks the working of God's grace in me, and give me a pure and whole heart. Grant me a share in your wisdom, and help to know myself as God knows me, and to know God's love as God has loved me in my master, Jesus.
Rest in your breathing, without forcing it. You are breathing in the breath of God. You live and breathe and have our being in God. When you rest in God's presence you pray:
God, help me to look back on this day or on the last week, and show me where I made a difference to other people.
Imagine the people you've met or spent some time with. What were their needs? Where did you have an insight in their situation or an ability to meet their needs… Now pray like this:
God, I feel that the words I said to NN, gave her a new confidence. Or: I think that you gave me an insight in NN's situation, And that sharing this with him he was filled with hope. Or: I feel that I used my abilities in such a way as to make a difference in the life of NN. Was my experience a hint from you concerning my gifts of grace, and of how I may serve or minister to other people? I ask you, Lord, to confirm it to me! May your Holy Spirit always stay with me and guide me in meeting other people. Thank you, in the name of Jesus Christ!
Remain silent. Maybe God will share an image, a word, a thought or an assurance or a peace with you that will confirm your ministry and your gifts of grace. Or you may just have an inner peace and find a new awareness in meeting people on your way – and suddenly you'll once more find yourself in a situation, in which your presence makes a difference.
If you want to find your gifts of grace, it's helpful to become part of a fellowship of people who themselves want to live in serving love in the imitation of Christ. In many Christian congregations you'll find a help to grow in serving others and in knowing your spiritual gifts. Many people need an introduction to Christian faith before they find and receive their spiritual gifts. And many people find that it is easier to practice their gifts of grace and to grow in a healthy use of the gifts when they are in a smaller group, because the members of the group help each other. Look for a congregation that offers small group fellowships (cell groups), or offers Alpha-courses.
找到自己恩賜的指引 – instruction in finding your gifts of grace – in Chinese
找一個好的姿勢,幫助你專注和自在地呼吸。
為聖靈臨在禱告:
奉耶穌基督的名,聖靈,請來!打開我的心思、意念、情感歸向你。潔淨我,抹去一切阻礙上帝恩典在我裡面作工的事情,並賜我純全的心。讓我能分一點你的智慧,幫助我認識自己,正如你認識我一樣;幫助我認識上帝的愛,正如上帝在我主耶穌裏愛我一般。
安歇在你的呼吸裏,無需用力。你正在上帝的呼吸裏呼吸著。你生活、呼吸、存留都在上帝之內。當你在上帝臨在中安歇,禱告說:
上帝,助我回看今天或過去一週,指示我為他人帶來的改變。
想像你曾遇見或相處的人們。他們的需要是什麼?你曾否在他們的情況中有所啟發,或有能力滿足他們的需求……現在如此禱告說:
上帝,我覺得我對某某所說的話,給了他新的信心。或:我想你曾在某某的情況中給我啟發,我與他分享這些的時候,他充滿了盼望。或:我覺得我以我的能力如此這般影響了某某的生命。我的經驗是否來自你、有關我恩賜的提示?主,請讓我確認!願你的聖靈常與我同在,並在我與他人的相遇之中引導我。奉耶穌基督的名,多謝你!
保持靜謐。願上帝與你分享一個影像、一個字詞、一個想法或一個應許或平安,使你確認你的事工和你的恩賜。或你只有內在的平安,並在你與他人相遇之際得著新的體察──忽然你會再一次處身於為他人帶來改變的情況。
若你想找到自己的恩賜,可以加入一個仿傚基督、活出服事的愛的團契。你能在很多信徒群體中得著幫助,在服事他人和了解自己恩賜方面得以成長。很多人在得著屬靈恩賜之前先要有基督信仰的簡介。也有很多人認為在一個較小的群體中,更容易熟習並健康地使用自己的恩賜,因為成員能互相幫助。找一個提供小組團契(細胞小組),或啟發課程的群體。